MARILYN ROXIE - VISUAL ART - EXHIBITIONS


Exhibitions including my work and curatorial projects I've been involved in.



Young, Wet, and at Wild Hit Gallery, San Francisco


Reception June 7th, 2019 6PM - 10PM

Presented music video for Brevyn - "Spires"



Brevyn - Spires from Marilyn Roxie on Vimeo.



Motion/less: Manchester School of Art MA Filmmaking and Photography Exhibition




Motion/less

Friday, June 29 2018 at 6 PM – 9:30 PM
1 Stevenson Square, Manchester

Join us for a showcase of new and in-progress work by Manchester School of Art photography and filmmaking students at 1 Stevenson Square.

Private view: Friday, 29/6/2018, 6:00pm-9:30pm
Open to the public: Saturday, 30/6/2018 and Sunday, 1/7/2018, 11:00am-5:00pm

Showing work by:
Jodie Barrett, Michael Barrow, Mike Bennett, Simon Carter, Natasha Charnley, Lucie Crewdson, Simon Davies, Richard Evans, Emma Harckham, Thomas Larkin, Benjamin Martin, Danny Orwin, Fex Orumwense, Marilyn Roxie, Jamie Swift,Modesta Vainaitė, and Stephen Walker.

About the artists:
Jodie Barrett
My research, and the genre I explore is based primarily on family, and our memories, as well as the documentation of these relationships. Within the last year of postgraduate study, I am exploring familial behaviours, and whether or not such behaviours are learnt or genetically ingrained into us. I am currently researching and examining the social issues that can be included within close knit families. With this thought, I am exploring my own relationship with my parents, as well as establishing my own identity as an individual – while analysing whether or not I possess certain qualities from both of my parents.

Michael Barrow
My work explores themes rooted in the philosophies of human experience. I use a range of photographic processes to make work which is often influenced by prose, philosophic writings or narratives. Place, landscape and the ever-changing flux of our interpretation on these plays a big role in my practice.
http://www.michaelbarrow.co.uk/
http://www.wearetabletop.com/

Mike Bennett
I am currently researching and making work regarding disability and it's place in contemporary art.
https://mickbennett.wordpress.com/

Simon Carter
Simon is an artist working with photography, video and sound sculpture within installation, he has a particular interest in The Sublime and The Uncanny often revisiting over decades, small areas of Landscape that are reimagined to events beyond their borders. His current research is investigating Art made out of a response to conflict and turmoil. 'Disquiet' is an installation video piece that investigates anxiety as an internal response to sound and image of a small area of woodland relating it to wider events

Natasha Charnley
As an artist, my practice is very heavily influenced by my conceptual research into themes such as memory, human experience and the passing of time. Mainly exploring the ways in which these themes are perceived to the individual person and as a wider sociological way of life.

Lucie Crewdson
Lucie Crewdson is a photographer working with themes that include the relationship between fashion and fine art, performance, surrealism and the everyday.
http://www.luciecrewdson.com/
https://www.instagram.com/lucie.crewdson/

Simon Davies.
My work is photographic medicine. Using photography to means of improving lives. Using a wide range of skills and techniques to create scenes to accomplish the goal.

Richard Evans
I'm writing and filming a dramatic monologue about Jon, a carpenter who talks about the craft of carpentry, whilst also discussing a turn of events – "Missed opportunities, time going by and before you know it you're about to die… Still, there is always tomorrow."

Emma Harckham
My main passion is experimental documentary cinema and projection. My work discusses temporality as well as location, using my personal experiences to reflect on activist themes as well as personal emotions. Much of my current masters work seeks to explore my place as an individual within an urban landscape, through the sensory lens of my autism spectrum disorder.

Thomas Larkin
As an artist working with photography, I have found that the strengths of my interest lie not with taking photographs, but with everything that happens before (or after) a photograph is taken. My recent work has taken the medium of photography and stripped it back to its core, light on a surface. Through exploring traditional photographic practices and working with archival footage I have been creating a piece of work that challenges both the medium of photography, and also our relationship with place and space.
http://www.thomaslarkin.co.uk/

Benjamin Martin
My work is an exploration into projection and performance combined, I have a background in surrealist and conventional filmmaking. I'm often attracted to juxtapositions within art and society and translate that into my work

http://www.facebook.com/Benandthecamera

Danny Orwin
As a filmmaker, my passion is to create engaging stories and moving image work about place and belonging. I'm particularly interested in urban environments in transition and change, and how cultural memory is then brought into focus.
http://cargocollective.com/dannyorwin

Fex Orumwense
Fex is an artist filmmaker whose work focuses on visual story telling with themes surrounding memory, identity, representation and emotion. You can find more of her work…. https://www.youtube.com/user/ifueko100/videos?view_as=subscriber

Marilyn Roxie
Marilyn Roxie is a video artist and experimental photographer exploring androgyny, male submission, queer subculture, and the relationship of found image to creative authorship.
http://marilynroxie.com/
https://instagram.com/marilynroxie

Jamie Swift
My body of work concentrates on a fusion of both photographic stills and Haute Couture garments, establishing themes such as the future. My stills are directed towards fashion portraiture, which often contain narratives. Through the making process, there are two main distinguished moods, which are dominant and continually juxtapose each other to create a constant and stable interaction of differences. This oxymoron captures a melancholic emotion infused with aspects of romance, which engages a battle between darkness and beauty.

Modesta Vainaitė
Modesta is a filmmaker working with themes that include memories, sound and bilingualism. "Working with film and sound has given me a chance to explore themes that have been important to me as a creator: language and memories. As a foreigner, the idea of learning a new language has opened a spectrum of artistic possibilities for me which I intended to explore further."

Stephen Walker
I am working on the high moorland of the Peak District at the place where 3 counties meet. My pictures look at the "empty" space and the weather as well as the careless and planned abuse of a precious, ancient landscape.


Just Experimenting – Playing the Sexual Edge of Film: June 8th, 2018 at the Center for Sex and Culture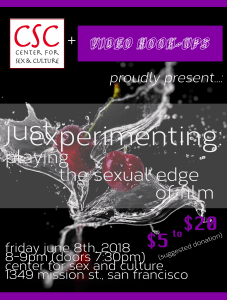 Just Experimenting: Playing the Sexual Edge of Film Friday, June 8th 8:00pm-9:00pmDoors open at 7:30pmCenter for Sex and Culture1349 Mission St.San Francisco, CA 94103
Facebook event:

https://www.facebook.com/events/179469229554580/

$5 to $20 at the door – 100% of the proceeds go towards supporting the Center for Sex and Culture. NOTAFLOF.



Manchester School of Art Degree Show 2018



This year I curated the undergraduate final films for the Manchester School of Art Degree Show 2018 into three programs that will appear in screening booths in the Manchester Metropolitan University Benzie building.

You can find more information here:

http://degreeshow.mmu.ac.uk/2018/

About the Degree Show
Our degree show features over 1,000 graduating students from across architecture, art, design and media courses from ceramics to sculpture, fashion to filmmaking, and textiles to typography.

Private View: 8th June, 5.30pm – 9pm

Open to the public: 9th June – 20th June

Opening times: Mon – Fri 10am – 6pm, Sat/Sun – 10am – 4pm

Locations: Manchester School of Art (Benzie, Grosvenor and Chatham Buildings, Cavendish Street, M15 6BR) and 99 Oxford Road (Old Manchester Met SU, M1 7EL)


Stable 2 at Spirithaus Gallery May 25, 2018


STABLE is a new platform created to provide visibility for experimental, electronic, and mixed/nu-media artists in the bay area, in an attempt to foster experimentation, diversity, and development through action.Join us on Friday May 25th for the second installment of our serial show/zine/tape release!

PERFORMANCES BY:
SPELLLING https://spellling.bandcamp.com/
BORED LORD https://boredlord.bandcamp.com
KONKRETA new unreleased music by https://soundcloud.com/tr4vi3za
XD https://soundcloud.com/user-193457668
DJ set by Nintendo.TS https://soundcloud.com/nintendo-ts

Live visuals by ROSE CHERAMI https://trueindigo.bandcamp.com/

DIGITAL/PHYSICAL ZINE & TAPE RELEASE

Ft. Installations and video work from
SPICYINARI
BILLIE0CEAN
SOULDOG
NIGELLA DAMASCENA


10th Annual PGR Conference Provoking Discourse


Presented Virtual Photography: The Camera Within Video Games



This video from MMU includes footage of me giving my presentation.


Decipher: Digital Futures Exhibition, February 8th 2018


Thursday, February 8 2018 at 6 PM – 8 PM

John Dalton Shed at Manchester School of Art

With Aseel Nasir Sai'd Bseso, Richard Evans, Jodie Guest, Michael Ives, Eliot Lee, Karolina Mabiki, Jarek Maciejowski, Simon Birnie Mcdonald, Hyun Woo Nam, Michael Orr, Fex Orumwense, Marilyn Roxie, Jamie Swift, and Marco Zanello.

I will be presenting my Twine game The Public Tarot, an interactive play of the classic images of the the 1909 Rider-Waite tarot illustrated by Pamela Colman-Smith juxtaposed with the general public's word associations with these images. An interface for drawing up a fortune gives the querent insight through generative visual-textual processes.


look to the future-past: curated by Marilyn Roxie 1st – 8th September, 2017



look to the future-past is an online exhibition on is this it? bringing together contemporary videos that make reference back to video art and experimental film of the past. Over the course of the week, these videos will be revealed to you in ones and twos, culminating in an hour-long compilation of the whole. Structural film, video feedback, collage…Brakhage, Jarman, Rosler, Paik, the Vasulkas…Styles, techniques, and hallowed names to deconstruct, update, and upend. Abstraction and ambience reign supreme in this collection of works, though the drama of the everyday too shines through.

The schedule:

Day 1 – September 1st

Ben Redmond – "Dream-Seconds"

A moving-image collage. "Dream-Seconds" is inspired by Joseph Cornell's "Rose Hobart" (1936). The source material was two random VHS tapes [Twister (1996) / Reader's Digest: Nature's Symphony (1991)] found in a local thrift store, manually manipulated in post production. "The piece, beautiful and haunting", by the nature of its process, asks us to consider what we keep, discard, and re-purpose as aesthetic material," writes Warren Cockerham.

Day 2 – September 2nd
Matthew Duhamel – "15"
Shannon Cochrane, Irina Contreras, Bug Davidson – "Semiotics of the (Mexican) Kitchen"

Day 3 – September 3rd
Elia Vargas – "grass wool signal scan: an adaptation of NZ is Terrible"
Karl Erickson – "Life Can Be Difficult"

Day 4 – September 4th
Dean Winkler, Maureen Nappi, Donald S. Butler – "140 Characters"
Joseph Bernard – "SPLICES FOR SHARTIS"

Day 5 – September 5th
Alan Goodrich – "From That House in the Glen"
Theadora Walsh – "Alphabet Poems"

Day 6 – September 6th
Polina Khatsenka, Jan Krombholz – "way back to The Kitchen – 2016"
A. P. Vague – "Inkjet Music Erased #1"

Day 7 – September 7th
Kit Young – "Your Cage is Ready"
Perry Bard – "Mothlight Distributed"

Day 8 – September 8th
Carl Abrahamsson – "SUB UMBRA ALARUM LUNA" (excerpt)
Release of Vimeo compilation of all works


Curator bio:

Marilyn Roxie is a video artist and experimental photographer, exploring queer genders and sexualities, especially androgyny and male submission, through the lenses of abstraction and found image. They're currently working to form a collective for resources and events pertaining to experimental film called VIDEO HOOK-UPS; stay-tuned.

They've previously curated a video show of student films at San Francisco State University at Artists' Television Access and a compilation of videos exploring the themes of experimentation in gender and sexuality for the Center for Sex and Culture in San Francisco.


The film project at Manchester Metropolitan University for their post-graduate filmmaking program is set to focus on chronicling the lives and performances of LGBTQ musicians in Northern England. They're a recent graduate of San Francisco State University with a BA in Studio Art, emphasizing in Digital Media and Emerging Technologies and minoring in Sexuality Studies.

Also the founder of Creative Commons netlabel Vulpiano Records, and a non-binary advocate.

You can see their work (and play) at Vimeo, Instagram, and Website.

About the artists:


Ben Redmond

Ben Redmond is a Harlem-based multi-media artist, DJ, & writer. He tries to make poems from things other than words. Ben is an alumnus of Bennington College.

http://cargocollective.com/bredmond/

https://vimeo.com/bredmond



Matthew Duhamel

Matthew Duhamel is a writer, game developer, and animator who lives and works full-time out of his blue van.

https://patreon.com/dualhammers

https://www.instagram.com/dualhammers/

https://twitter.com/dualhammers


Shannon Cochrane, Irina Contreras, Bug Davidson

Irina Contreras is a Los Angeles based interdisciplinary artist and writer. Irina's art practice examines personal reflections and origins of collective memory. Recent projects explore speculative origins of collective memory and audience inspired by security culture, social media and political histories. Irina is the founder of the 12 year-old project, The Miracle Bookmobile and have performed and screened their videos and projects at the A+D Gallery in Chicago, Coagula Curatorial in Los Angeles, the Ghetto Biennial in Port Au Prince, Haiti, The Lab in San Francisco, Hemispheric Institute for Performance and Politics in NYC, Entzaubert in Berlin and other venues. Additionally, Irina has worked for fifteen years at the intersections of the arts, public education and pedagogy within institutional and community based platforms. Irina has pursued these interests alongside their lifelong dedication to social and restorative justice practices. Currently, Irina is preparing for their project for Pacific Standard Time's, LA/LA: A Celebration Beyond Borders.

Shannon Cochrane is a performance artist based in Toronto, Canada. She is the current Artistic + Administrative Director of FADO Performance Art Centre and is a founding member, co-organizer and co-curator of the 7a-11d International Festival of Performance Art. Shannon's performance work has been presented in over 18 countries in North and South America, Europe, UK, and Asia.

Bug Davidson is a motion image artist and film director interested in communicating through visual language intersections of media & representation, social corporeal choreography, acousmata & action, and the enchantment of cinematic gesture.

https://vimeo.com/bugdavidson

https://www.instagram.com/bugdavidson/


Elia Vargas

Elia Vargas is an Oakland based artist and curator. He is co-founder and co-curator of the Living Room Light Exchange, a monthly salon on new media art and digital culture; half of improvisational modular synthesis duo systemritual; board member of Mediate Art Group; and a PhD student in Film and Digital Media at UC Santa Cruz. He is currently investigating the materiality of crude oil and media transmission in relationship to human time scales, temporalities, and flows.

http://www.eliavargas.com/

https://www.instagram.com/elia.vargas/



Karl Erickson

I am an artist using video and other moving image media. I am particularly interested in systems of belief, science fiction and environmentalism.

https://vimeo.com/user4044293


Dean Winkler, Maureen Nappi, Donald S. Butler

Dean Winkler is a film/television engineer and video artist. An early adopter of analog video synthesizers, he's built video editing hardware, post production facilities and immersive environments.


Dr. Maureen Nappi is an artist and educator who works in advanced technology creating still and moving imagery. She is the head of Media Studies and a professor of Media Studies + CGI at Long Island University in Brooklyn.


Donald S. Butler is a painter, computer animator and video artist. His career spans stage, screen and print. He has worked as a digital animator and digital compositor across the world including at Post Perfect in New York City and Industrial Light and Magic in California.

http://wci.nyc/


Joseph Bernard

Hartford Art School BFA, SAIC MFA 100+ S-8, silent films>40 on Blu-ray: PRISMATIC MUSIC disc.

http://josephbernard.com/

http://instagram.com/josephbernard.art



Alan Goodrich

I have no project. I am a filter that condenses and shapes the signals of world and time. What interests me is the poetry in the most mundane, the sublime and fantastic on your doorstep. I like jokes and the absurd. I like to watch the weather.

http://www.alangoodrich.net/

https://vimeo.com/agoodrich

https://www.instagram.com/alan.goodrich/


Theadora Walsh

Theadora Walsh is a writer and a video artist doing an MFA in Digital Writing at Brown University. Work has been published in Inpatient Press, Entropy Magazine, The Electronic Book Review, Apogee and others.

https://theadorawalsh.com/

https://vimeo.com/user41950173

https://twitter.com/theadora_tm


Polina Khatsenka

New media artist, born in Belarus, studying art in Czech Republic. Works mainly with video, site-specific installations and sound.
https://vimeo.com/polinakhatsenka



Jan Krombholz
Post-conceptual artist from Czech Republic. Works in wide range of media from oil painting through video to site-specific audio installations.

A. P. Vague

A. P. Vague is an American multimedia artist whose work focuses on technology, communications, and international exchange.

http://apvague.wordpress.com/

https://vimeo.com/apvague

https://www.youtube.com/channel/UCLdXMxdkkD2h2TsywzZdXPg


Kit Young

I am an artist producing video embedded sculpture, video art, and performance art. Recently I have been building video art systems that are flexible enough to be played in an improvisational way. I have been performing collaboratively with other sound and visual artists at venues that host expanded cinema events. I also do live sessions in my studio that result in pieces like this entry.

http://www.youngkit.com/

https://vimeo.com/user9265125

https://www.instagram.com/videoactive_avocado/



Perry Bard

Perry Bard is a Canadian artist living in New York. She works individually and collaboratively on interdisciplinary projects for public space.

http://www.perrybard.net/

https://www.instagram.com/perrybard/


Carl Abrahamsson

I'm a Swedish freelance writer specialising in material about the arts & entertainment, esoteric history, occulture and portraits for the international market. I also lecture on all of the mentioned subjects at art schools, universities, events, symposia and conferences. I also work as a consultant in regard to text editing and printed matter for publishing companies, magazines and record labels. I also work with filmmaking, in publishing, photography and music.

http://www.carlabrahamsson.com/

https://vimeo.com/user3979080

https://instagram.com/carl.abrahamsson/



STABLE Release Party at The Hole in Oakland, 8/4/2017

Friday, August 4 at 7:30 PM – 12 AM
The Hole (ask for address)
Oakland, California 94607
STABLE is a new platform created to provide visibility for experimental, electronic, and mixed/nu-media artists in the bay area, in an attempt to foster experimentation, diversity, and development through action.

Please come join us on the 1st Friday of August, for the first installment of our serial show/zine/tape release!

PERFORMANCES BY:
XD
LAK
GESTURES
AH-MER-AH-SU
***
DIGITAL/PHYSICAL ZINE & TAPE RELEASE w/ 20+ ARTISTS
***
PROJECTIONS by LiL PDF !

Live streamed by Lower Grand Radio~

Contributing Artists:
Maya Songbird
Bored Lored
Of Curse
Radar
SPELLLING
Stefen Lazer
Kente
Christian Schick
Claire Staples
Donald Hanson
LiL PDF
Marilyn Roxie
Oberon Strong
Patrcia Ronsinson
Nick Barbeln
+++ more

Videography by Nicxnathan~

STARTS EARLY
$5-10 suggested, NOTAFLOF


B4BEL4B Art Gallery: Elia Vargas – Lubricated Substrates 6/30 – 7/29

A recent internship involved assisting artist Elia Vargas with the preparation of Lubricated Substrates, an exhibition at B4BEL4B in Oakland. I helped to prepare designs for paper labels and 35mm slides, shown below, in addition to conducting research on oil production in Oakland and locating assets for 3D printing.




Lubricated Substates is a solo exhibition with Elia Vargas featuring his expansive body of work investigating light as material, earth infrastructures, oil materialities, earth energies, and global transmissions. This culmination of his previous works and research will be presented alongside new works, including the US premiere of the video "Signal Works".

More information here: https://www.b4bel4b.com/upcoming/


Just Experimenting: Video Art Exploring the Margins of Gender and Sexuality

Just Experimenting: Video Art Exploring Gender and Sexuality
Friday, June 9 at 8 PM – 9 PM (Doors 7:30 PM)
Center for Sex and Culture
1349 Mission St,
San Francisco, CA


https://www.facebook.com/events/1884607415140325/

Doors at 7:30pm! $5 to $20 at the door – 100% of the proceeds go towards supporting the Center for Sex and Culture. NOTAFLOF.


Just Experimenting: Video Art Exploring the Margins of Gender and Sexuality (Abridged) from Marilyn Roxie on Vimeo.


Just Experimenting will be an hour-long program of video art and experimental film that concerns the topic of experimentation: non-traditional video or film techniques and genders and sexualities outside of the norm. What does "just experimenting" mean to you?

Showing works by:
Crystal Mason, Danica Uskert, Charles Lum and Todd Verow, Ceven Knowles, Clitoressa, Meehaun Glasper-Wade, Rick Clarke, Eden Mitsenmacher, Jet Caputo, Paula Levine, Marta Strazicic, oberon strong, and Rocket Ear.

About the curator: Marilyn Roxie is a digital video collage artist. Themes expressed in their art include androgyny, male submission, and queer subculture. Roxie currently lives and works in San Francisco. You can see their work at https://vimeo.com/marilynroxie

Accessibility: The Center for Sex and Culture has a 32 inch wide front door with a slight incline. There is a bathroom that will accommodate heavy chairs (no support bars – forthcoming installation). Main room is on ground floor with a 6 foot ramp up to it. The back door ramp will handle up to 42 inches wide (requires someone to assist in opening door).

About the films:
Crystal Mason – "I Know My Soul"

This video touches on issues of identity building and self love through self knowledge. Using a poem by the Queer Harlem Renaissance poet Claude McKay.

Paula Levine – "Mirror, Mirror"

Shot in Venice California at Muscle Beach, this is a short vignette about viewing and being viewed.

Eden Mitsenmacher – "Couldn't Dream Anywhere"

It seems our consciousness is fascinated by our own hands.
It makes sense, for aren't they a symbol of our agency? That endlessly fragile agency, the sense of which is mostly constructed, almost dreamt up. Yet we're searching for it relentlessly.
Hurtling through space like that, is restlessness any wonder?

Jet Caputo – "grassonskin"

a human individual utilizes a machine to express their relationship to earth and her entities

Ceven Knowles – "aqua regia"

A web cam artist contemplates his projected image over the internet to the vaporwave soundtrack of the Computer Afterlife album by Infinity Frequencies while simultaneously broadcasting to his public.

oberon strong – "ALL FALLS DOWN"

ALL FALLS DOWN presents a digital hell-loop centering around the idea of the trans antagonist coming to terms with the ideas of home, anxiety, intimacy, our inevitable death, longing, and the conversation between obsolete and current technologies.

Danica Uskert – "cocaine superstar/pop that box"

A multi-layered shibari-striptease performance art music video, heavy on the kink.

Rocket Ear – "Don't Fuck With England"

A love story of words, whips, fries, and chips.

Marta Strazicic – "Masculine Fragility"

A man oppressed by social norms rethinks his masculinity in the heart of the oasis, finally breaking through his fragility.

Meehaun Glasper-Wade – "I Am"

This is a timeline documenting emotions and changes I have experienced thus far throughout my medical and spiritual transition from female to male.

Clitoressa (aka Christina Goestl) – "sexflexnetz"

An audiovisual extravaganza re-mix in celebration of the infamous net.art project sex.t0.or.at, 1997-2006, – 'A positive guide about pleasure, being informed and asking questions, encompassing drag kings, macho sluts, new fiction and performers, artists and writers from Japan's Midori to Pat Califia.' (I-D magazine) Produced for the royal blast-off picnic performance at Flex (AT), 1998. Revised and dubbed 2007. With a dedication to kink party people !i!i!

Charles Lum and Todd Verow – "BLOW JOB 2017"

"BLOW JOB 2017" is a remake, update and a deconstructive reimagining of Andy Warhol's most famous 1964 short film "Blow Job."

Rick Clarke – "THE SYMBOLS WILT"

…This confusion, this dark backwards, this failure in the duty of mothers, this burying of liberty's putrid corpse is my misinterpretation of the immortal hour and the purity of my love, of my sex and of my fetishes – my fetishes of and for fetishes… the transference of energies after the golden death of the body is the cause of all this… I want to wonder about that, moving between bodies. Not really 'woman trapped in a man's body' and vice-versa, because that's impossible to know for sure… the people without these powerful energies – i.e. everybody not me and thee – are parasites… For these vermins who inhibit our private world, our over-garden, to have a soul would be a travesty…

About the artists:

Crystal Mason
Crystal Mason is a youngest child. Genderqueer. Social, and works for art and art making. Crystal Mason is a mover of emotions and thought. A lover who submits. A black person who can not hide, so I assert my right to be seen. Art maker, arts administrator, videographer and editor. https://vimeo.com/user7669481

Paula Levine
Paula Levine has worked in video since 1983. Trained through local community television production in Vancouver, BC, with roots in local histories, grassroots video productions and the power of community voices. Her videos have screened in numerous festivals, galleries and museums in the US, Canada, Japan, Australia and Europe, including the Canadian Embassy in Japan, New York Jewish Film and Video Festival, San Francisco Museum of Modern Art and the Canadian National Gallery. Her work has won many awards, including commendations from SECA, Atlanta Film and Video Festival, Montreal Film and Video Festival, with works in permanent collections and media libraries. Her video is distributed through Video Out, Vancouver, British Columbia, Canada. http://paulalevine.net/

Eden Mitsenmacher
Born 1987 in the USA; works in Rotterdam and Tel Aviv. Combines performance, video and installation to take a critical yet engaging view of social, political and cultural issues. Holds a BFA from Goldsmiths College University of London and an MFA from the Dutch Art Institute. Has participated in several exhibitions world wide, including; Istanbul Biennial, the Van Abbe Museum in the Netherlands, Holon Design Museum, Liverpool Biennial, Arebyte Gallery London, ANILOGUE, Animation Festival Budapest, Internationales KurzFilmFestival Hamburg Germany and many more. http://www.edenmitsenmacher.com/

Jet Caputo
Jet Caputo is a multi media video artist who often utilizes the special abilities that a hi-8 video camera has to offer. With an organic and homemade feel, he blends documentary techniques with expressionism to present themes of eco-eroticism, a connection to the earth, and self image. To see his work, visit https://vimeo.com/krapnekpark or on Instagram as @krapnekpark.

Ceven Knowles
Ceven Knowles is video and new media artist out of Berlin. He works with themes of psychoanalysis, pagan spirituality, and the exploration of consciousness in digital and new media through his video art installations, art pornography, and music video. http://cevenknowles.com/

oberon strong
oberon strong (b. 1990 in los angeles, ca.) is a queer rapper, photographer, and filmmaker. his work draws on themes of being othered, the absence of the lover, processing feelings of desire, and the relationship between death and photography. http://www.thehuntersnow.com/

Danica Uskert
Danica Uskert is a dis/abled, pansexual, polyamorous, mixed-race (Filipina-Slovak) multimedia performance artist and filmmaker. Her bdsm and fetish-themed work focuses on memory, trauma, self-love, identity, representation, and rebuilding one's sense of self after sexual assault, abuse, and half a lifetime as a former sex worker/professional submissive. You can find more of her work at http://www.filmandfishnet.com, follow her on vimeo at http://wwww.vimeo.com/danicauskert, or on twitter @donnauwanna.

Rocket Ear
Rocket Ear works at the intersection of sex, sound, software, and silliness. You can find him at https://mobile.twitter.com/rocket_ear or https://www.reddit.com/user/RocketEar. This is his first movie. He'd love to have your help to make another.

Marta Strazicic

Marta Strazicic (19/04/1995) is an MA student of new media and animation at the Academy of Fine Arts in Zagreb, Croatia. She works in an art duo called SwS(Schwestern Sisters) with her sister Tea. They merged together and started making animated music videos, short animations, posters, various art exhibitions etc. Their SwS quote is:"Creating art is a one thing, but looking at other people's art, it's another thing" https://vimeo.com/piratesheep https://ello.co/pirate_sheep

Meehaun Glasper-Wade
Meehaun Glasper-Wade, is a California based visual artist residing in the Bay Area, SF. As a young Black transgender man he hopes his work will bring awareness to the black and queer community as well as their parallels and intersections. He is currently working on a series of paintings which examine certain notion(s) of masculinity within the black and trans male of color community. https://www.instagram.com/Meehauntheartist

Clitoressa
Clitoressa aka Christina Goestl is an artist with an extensive sex.art dossier. She created and maintained the net.art project 'SEX – a positive guide' (online 1997-2006, recently on show at Wien Museum, Austria, in a restored version, http://sex.clitoressa.net), developed the sex-positive interactive compendium 'matrix.64', and is a pioneer in shedding light on the pleasure spot clitoris with her artistic works 'Clitoris Design' and the 3d-print model 'Clitonics' http://www.cccggg.net/

Charles Lum and Todd Verow
Charles Lum, aka clublum, received his MFA in Photography from the School of The Art Institute of Chicago after 25 years scouting & managing film locations. His short videos have screened internationally in museum, art and film venues.

Todd Verow attended the Rhode Island School of Design and the AFI Conservatory.
He made his feature film debut with "FRISK" in 1996. (Sundance, Berlin & Toronto.) At Bangor Films, Todd has directed over 25 features and numerous shorts, establishing himself as the most prolific auteur emeritus of the New Queer Cinema.

Charles & Todd also co-directed the feature documentaries "AGE OF CONSENT" and "SEX & The Silver Gays" and the shorts "TOM"s Gift," "been too long at the FAIR." and "Secret Santa SEX Party."

Rick Clarke
Rick Clarke is from the brutalist wastelands of the north west of England


ASI Art Gallery Zine Launch, April 26th 2017 @ 5pm


Two of my photos appear in the 1st Art Zine of the Associate Students' Art Gallery, launching tomorrow, April 26th 2017 after 5pm. The zine launch event is part of the Daily Acts: 2017 SF State School of Art Senior Exhibition opening.

Daily Acts: 2017 SF State School of Art Senior Exhibition

https://www.facebook.com/events/1317926138275396/permalink/1330002060401137/

5 PM – 8 PM
Associated Students Art Gallery
1650 Holloway Ave, San Francisco, California 94132

The zine is now available to download on Issuu.


Martin Wong Gallery: Unconventional Practice, Reception 4/27 @ 5pm


Two of my videos will be showing at Unconventional Practice tomorrow, reception starting at 5pm. It'll be up until May 3rd, 2017.

Unconventional Practice: Senior Art Show Opening

27 Apr 5:00pm – 8:00pm

SFSU Martin Wong Gallery, 1600 Holloway Avenue, Fine Arts Building, Room 286

Join us for the opening Unconventional Practice, a SFSU Senior Art Show held in the Martin Wong Gallery on April 27th, 2017 (5pm-8pm). Unconventional Practice will be on display until May 3rd, 2017.

Unconventional Practice explores the art making process and decisions of graduating art students at San Francisco State University. By resisting conventionality, these artists fall outside the norm but contribute the personal, raw, and experimental capacities that push artistic practice to the edge.


Artists' Television Access: Cloudy Eggnog, December 15th, 2016 8pm


Cloudy Eggnog: SFSU Art Dept Final Video Work

December 15th, 8pm at ATA

$5.00

Artists' Television Access
992 Valencia Street
San Francisco, CA 94110

With:

Joshua Max Allen Berger
Amanda Kristie Campbell
Daniel Edwinson
Denver Gacayan
Meehaun Glasper-Wade
Johnny Janis
Daniel Miramontes
Marilyn Roxie
Archer Saffarian
Sam Stollerman
Tiah Tam
Will Winter


Ludowika: #1: Femme Music Nigh July 15th, 2016

LUDOWIKA

Friday, July 15 at 8 PM – 1 AM

LUDWIG Anzengruberstr. 3, 12043 Neukölln, Berlin, Germany

LUDOWIKA is an evening showcasing video and music from artists and musicians on the femme side of the spectrum hosted by Moldy Horse and Ludwig.

DJ: Moldy Horse will play music focused on women musicians and producers. She herself is a composer and musician.

Video: artworks made by Nicky Miller, Julieta Triangular, Anna Ceeh, Marilyn Roxie and more to come. If you'd like to submit a videoart short please WeTransfer an H264 .mp4 video to office@ludwig-berlin.eu

The event will take place alongside the Chaostrophy :artworks inspired by the music and history of the band Coil exhibition.
Chaostrophy :artworks inspired by the music and history of the band Coil

My video collage collaboration with Dan Wreck will be appearing in the premiere exhibition at LUDWIG in Berlin, June 17th 2016 – July 23rd 2016. Can't make it to Germany? You can still watch the video here.

CHAOSTROPHY :artworks inspired by the band Coil

17.06.2016 – 23.07.2016

LUDWIG
Anzengruberstr. 3, 12043 Berlin
curated by Ceven Knowles


The music of Coil spanned over twenty-two years with fifteen studio albums, nine live albums, ten compilations, and dozens of Eps and singles, not to mention different aliases, side projects, and other collaborations. Founding members, John Balance (February 16, 1962 – November 13, 2004) and Peter "Sleazy" Christopherson (February 27, 1955 – November 10, 2010) created a rich body of work that came to also include members: Stephen Thrower, Drew McDowell, William Breeze, Thighpaulsandra, Ossian Brown and countless other guest musicians and singers. Their ever-evolving sound and presence became a legacy deeply respected by artists, musicians, and occultists around the world. Rather than a retrospective of the band's output this exhibition focuses on original visual and audio artworks, photographs, texts, performances and personal reflections as a tribute.

This serves as the opening exhibition at LUDWIG a new gallery, small event venue, culture house, and bar in Berlin Neukölln spread over three large rooms covering 114 square meters. Over the weeks of the exhibition online video documentaries, live streaming events and other materials giving portraits the artists involved and their contributions will be released online for those who cannot be in Berlin can experience as well.

Contributing Artists

Paintings:
Sabatino Cersosimo (Germany)
Lin Chiwei (Taiwan)
Phillip Cooper (UK)
Lucero Milchorena (Mexico)
Edgar Invoker (Russia)

Drawings, Prints, Mixed Media, Collage:
Dominique Bloink (USA)
Brett Despotovich (Canada)
Zoe DeWitt (Austria)
Jeremy Dziedzic (USA)
Florian-Ayala Fauna (USA)
Russell McEwan (Scotland)
Daniel McKernan (USA)

Photography
Alexander Brattell (UK)
Juston Ds (UK)
Stefano Di Felice (Italy)
Jan Großer (Germany)
Kai Lübbe (U.S.A.)
Uolevi Suntio (UK)
Keiko Yoshida (Japan)

Video
Ana Ceeh (Russia)
Ghost Twin (Canada)
Hawthornn (UK)
Ceven Knowles (Germany)
Micki Pellerano (U.S.A)
Pier Giorgio de Pinto (Switzerland)*
Marilyn Roxie (U.S.A.)
Julieta Triangular (U.S.A)

*with photographic prints as installation

Book
Anthony Blokdijk (Holland)

Audio:
Wajid Yaseen (UK)
Zoe DeWitt (Austria)
Matthew Levi Stevens (UK)
Adam Czarnecki (Poland)
Daniel McKernan (USA)
Royksopp (Norway)
Ruby (Scotland)
Electrosexual (Germany)
ZSLO (Taiwan)

Live & Performance:
The Tapeworm
Thee Balancer
Emre Busse & Tommy Vowles
Jan Noll

Vernissage
17.06.2016 at 18:00 with
Performances and Artist Talks begin at 20:00
Emre Busse & Tommy Vowles
Brett Despovitch
Ceven Knowles
The Tapeworm
Thee Balancer

Finissage
23.07.2016 @ 18:00
DJ Jan Noll
tba

For more information please contact Ceven Knowles
Music Video Showing at Re/Action Exhibition at SF State, 4/21, 2016


My music video for Neurotic Wreck – "Funeral of Roses" will be on display in the Cesar Chavez Student Center Art Gallery exhibition Re/Action, opening 4/21 from 5pm-8pm. The exhibition was juried by Rebeka Rodriguez from Yerba Buena Center for the Arts.

A group exhibition with:

Alden Enriquez
Shikha Hutchins
Salvador Perez
David Rogers
Lyola Rowe
Marilyn Roxie
Jacob Ruggles
Christina Rizos
Susan Luo
Meghan Brabant
Cody Lee
Maxx Ortiz
Marvin Hidalgo
Moira Chase
Chris Chigas
Kiana Endres
Nathan Byrne
Luna Gomez

Every cause has an effect and every effect becomes the cause of something else. The artists in this show bring the learning, relationships and experience of their time at SFSU to the work in this exhibition. These undergraduate years have provided space for each artist to be active agents in their own lives and to explore the images and stories that matter to them on their own terms. The glorious result is a show comprised of works that embrace a broad spectrum of human complexity including: self-protection, isolation, private and public spheres of violence, contradictions, love, playfulness and more. Almost 100 works were submitted for consideration; the chosen pieces span drawing, painting, photography, printmaking, sculpture, and video.

Curated by Rebeka Rodriguez





Intimate Strange 2.0

Friday, December 18, 2015, 8:00 pm, $5

Artists' Television Access

992 Valencia Street San Francisco, CA 94110

Please join us for Paula Levine's digital video class finals.

Works by:

Michael Belmer

Jason Beresini

Christopher Danko

Aditya Davar

Audrianna Gonzales

Jordan Griffin

Austin Inman

Matthew Macias

Marilyn Roxie

Scott Pagueros

Arash Saffarian

Oberon Strong

Danica Uskert

http://www.atasite.org/?p=10364

Event poster by by Chris Danko